UN peacekeeping assignment: 'lifetime opportunity' for female pilot
"Working on a UN peacekeeping mission is a lifetime opportunity because it gives me a chance to interact with people from different countries with different norms and cultures. As a female peacekeeper, I feel proud and grateful that I have the time to work with other female and male peacekeepers from around the globe", Captain Valentina Iglesias pilot from El Salvador Contingent of the United Nations Multidimensional Integrated Stabilization Mission in Mali (MINUSMA).
Beyond equipment and capability contributions, El Salvador has distinguished itself as a leader in the deployment of female peacekeepers. Valentina is the third female helicopter pilot in Mali. Her fellow peacekeepers have commended her confidence and professionalism she brings to the mission. While serving in Mali as a peacekeeper, Valentina has become a source of inspiration for other women. "We are a source of inspiration for local women. When they see us, they feel they should fight to achieve something because it is possible," she said.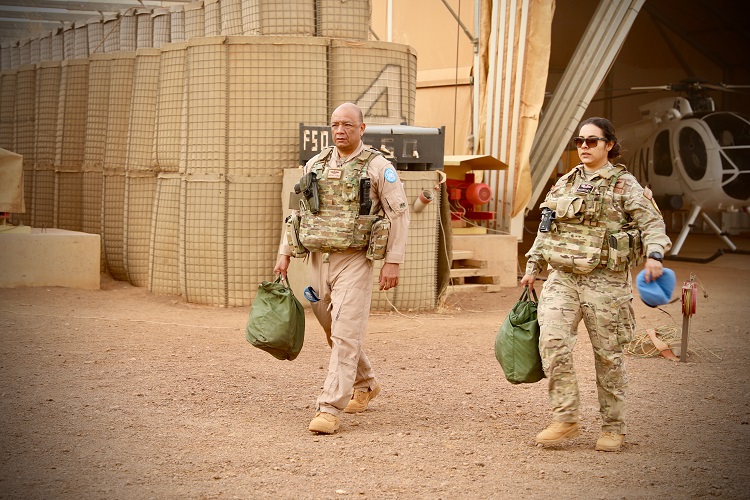 In December 2018, Valentina left San Salvador, to join MINUSMA, based in Gao. The long distance and time away from family are perhaps the greatest challenges, as her current location is very far from her home country. "My family appreciates that our contingent is in Mali to build peace and security and assist in conflict resolution for the country." During her free time, she reconnects with her family via WhatsApp, or heads to the gym for a typical a "two-hour workout."
A small nation plays a key role in the U.N. mission in Mali
As a country with a history of armed conflict in its own past, El Salvador is doing its part to help other countries around the world get on the path to peace. "We have been a part of UN peacekeeping missions since the 1950s, and remain very engaged," Colonel Eduardo Salazar said, referring to El Salvador's own internal conflict, which lasted from 1979 to 1992. A UN peacekeeping mission was installed in that country from 1991 to 1995.
El Salvador, a country of about six million people, has deployed a second aviation unit from Cuscatlán, El Salvador of three MD-500E helicopters and support troops to Gao.  El Salvador achieved a major peacekeeping milestone in 2015 when it made its first independent contribution to the UN mission in Timbuktu, Mali. The deployment of the "Cuscatláns" increased El Salvador's troop contributing strength to over 200 in MINUSMA and provides a critical force protection role along with other significant capabilities to the mission.
"El Salvador is a small country, but we are highly committed to international support and peacekeeping as an operational priority," Contingent Commander of El Salvador, Colonel Salazar, said.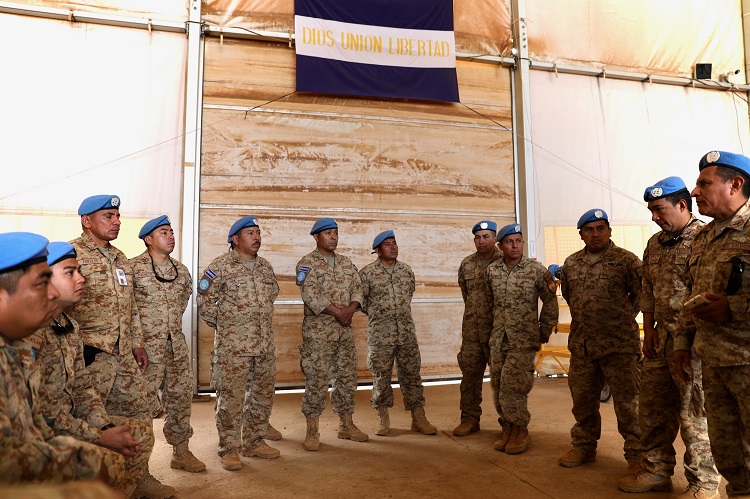 The Central American nation has played an increasingly- active role in peacekeeping operations around the world. From the UN mission in Haiti and Lebanon to one in South Sudan, troops from El Salvador are assisting with intelligence surveillance, rapid aerial reaction response, engineering assets, aviation refueling, and aircraft support operations on the ground.
Women keeping peace in Mali
In October 2000, the United Nations adopted a landmark resolution (U.N. Resolution 1325) which, among others, aims to increase women's participation and influence in peace processes around the world. Although progress has been slow to come, there are signs of change. With a greater push for gender equality, over the past decade MINUSMA has made greater efforts to incorporate gender perspectives into its purview when carrying out its mandated tasks.
Increasing women's participation in peacekeeping is recognized as a critical factor for the overall success of such missions. "Women bring a different perspective to peacekeeping operations," MINUSMA Force Commander Lieutenant General Dennis Gyllensporre said. He continued, "They, and only they, can access female networks in communities, thereby enhance the overall understanding of the situation."
Today, 428 women from countries around the world serve side by side with some 13,000 UN peacekeepers from more than 50 countries in Mali. Operating in a highly volatile environment, far away from their families and their countries, peacekeepers make sacrifices in the service of peace every day.
Voir aussi :