Chief Warrant Officer Jeanne d'Arc KOHOU or the needle of solidarity
Chief Warrant Officer Jeanne d'Arc KOHOU is a regular at UN peace operations. Her first mission was to Haiti, from 2011 to 2013, where she oversaw gender issues in a police station within the capital, Port-au-Prince. Her dynamism in the care of victims of gender-based violence (GBV) and the follow-up of cases, earned her to be recalled from 2014 to 2016.
Rich in this experience, she joined the United Nations Mission in Mali (MINUSMA) in 2019 where she was appointed to the same position in the city of Gao, in the north of the country. In her new role, she was responsible for supporting the Malian Defense and Security Forces in the management and follow-up of GBV cases. This also included providing them with training in the management of these cases, as well as the protection of civilians. In support of the efforts of the Malian Defense and Security Forces, Chief Warrant Officer KOHOU participated in the development of specific protection measures for the most vulnerable as well as women, children, and the elderly.
A few months after his arrival in Gao, the Covid-19 pandemic hit Mali. During the lockdown, outside of her working hours, Chief Warrant Officer KOHOU was affected by the distress and loneliness of her colleagues. With the planetary closure of all borders, some saw their hope of ever re-joining their loved ones disappear. She decided to go door-to-door to offer to those who wanted to learn how to weave reusable bags. "I didn't want to throw away plastic bags every time I went shopping," says the peacekeeper, whose generosity is second to none. A successful bet for Chief Warrant Officer KOHOU because, in a short time, Gao camp was taken over by weaving fever, a way to cultivate the resilience of peacekeepers during a trying time marked by the Covid-19 pandemic. First individually to respect the distancing measures and then in small groups, civilians and uniformed personnel weaved bags. "My idea was to strengthen solidarity and friendship between colleagues who were away from home and their loved ones during this difficult time. There was, however, one essential rule to follow: woven bags should under no circumstances be sold. They had to be for oneself or offered among colleagues and family members," she recalls. A pedagogue, she wanted "not only to create bonds of affection but also to privilege learning," she said.
This practice quickly spread to the city of Gao, outside the camp, through a Malian colleague who suggested that his wife also benefit from the talent and generosity of Chief Warrant Officer KOHOU. This is how the woven canvas began to expand with the training of a dozen women from the Château district.  "I took 24 days off to complete this training at my own expense. Today, three women and their families are living off the benefits of this activity. I am still in contact with them and I am always looking forward to the evolution of their business. When they have difficulty making a model or in case of forgetfulness, I prepare a video tutorial that I send them."
The initiative so small in its beginnings has won the members of women's associations in the cities of Ansongo and Ménaka thanks to word of mouth. To better structure it, the UN Police Regional Office funded two weaving learning projects in these two localities. As the network woven by Chief Warrant Officer KOHOU has grown, colleagues she had previously trained will in turn train 50 women in Ménaka and as many in Ansongo.
At the end of the mission, when she left Mali, Chief Warrant Officer KOHOU had trained women and men from Senegal, Guinea, Sierra Leone, Ghana, Nigeria, Côte d'Ivoire, Chad, Niger and Canada, Germany and Madagascar. A great success story: her contribution continues to continue to grow thanks to the desire to transmit knowledge from each other.
A therapeutic passion
Today, the satisfaction of Chief Warrant Officer Jeanne d'Arc KOHOU is indeed to know that she has transmitted something as a peacekeeper. "I always tell women that working is fulfillment. One of the trained colleagues told me that weaving is a therapy for her because it allows her to stop thinking about worries. What gives me even more satisfaction is that these bags feed a lot of people, send children to school and care for them. To go further, the web we have woven from the MINUSMA camp in Gao allowed each trained person to take a piece of Mali with them at the end of their mission. Seeing a single nylon thread will definitely send them back to Gao."
Originally, Joan of Arc KOHOU used her hidden talent, craftsmanship, to protect women from gender-based violence by offering them the means to have an income-generating activity and gain their autonomy. Her experience guided her in this way. "As a victim of GBV, I found myself alone caring for my three children. So it was better to create an inflow of money in addition to my salary, in order to be able to provide for our needs," she says.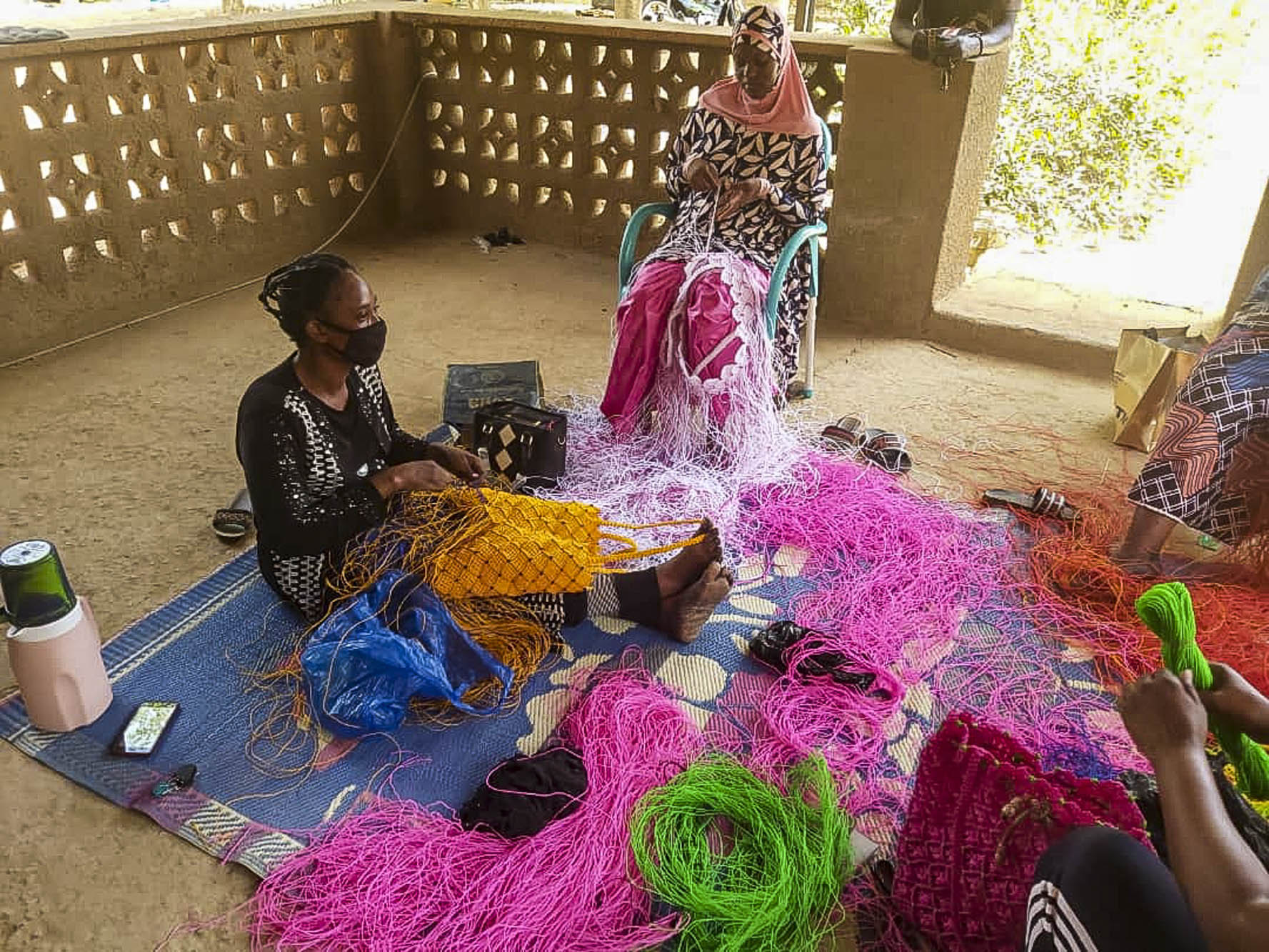 This passion for craftsmanship stung her when she was a high school student. At the time she had learned to weave, knit and make soap. A passion that saved her from the harmful consequences of gender-based violence.
On the occasion of the Day of Peace, Joan of Arc KOHOU sends a special message to women: "Tell your Children, your Husbands and your Brothers to lay down their arms. Let us avoid violence in our families, educate our children in non-violence and cultivate forgiveness." To the whole world, she reminds us that "without PEACE there is no development and for there to be PEACE, we must forgive have open dialogue. DIALOGUE + FORGIVENESS + ACCEPTANCE OF THE OTHER = PEACE".